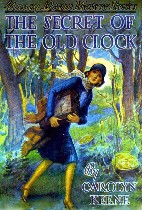 Carolyn Keene •
The Secret of the Old Clock •

In 1996 a nine-year-old girl petitioned the San Francisco Public Library to carry the Nancy Drew series, which was absent from its shelves. The library primly declined, saying that these were "formula" books with no value for young readers.
The young readers felt otherwise. So do I.
Since her debut in 1930, Nancy Drew has been a role model and an object of envy to girls across America, not to mention a powerful inducement for them to read. She has thrilling adventures galore, minus the blood-and-mayhem factor. People get threatened, kidnapped, clonked over the head, and shut up in dungeons with some regularity, but nobody gets murdered in the entire Nancy Drew canon.
Nancy herself manages to remain independent, smart, brave, pretty, and respectful of her elders without ever turning into a smarmy-two-shoes. With no shortage of pocket money, no mother to answer to, and no school to attend, she has the freedom to go where she pleases—and the blue roadster to get her there. (Recent face-lifts to the original books now term it a convertible, but the period flavor of roadster seems to suit Nancy better.)
She also has two good friends, Bess and George, ready to drop everything at a moment's notice to abet her sleuthing; she even has a background love interest. But the creators of Nancy Drew were sharp enough to realize that a heroine who gets married is no heroine at all, so Nancy stays unattached.
And the books are no less wonderful for their formulaic plots and happy endings; Nancy always gets her criminal, and good wins out, predictably and satisfyingly, over evil.
I'm happy to report that the library eventually reversed its decision. Nancy Drew has triumphed again, in The Mystery of the Reluctant Library.
Read more about Nancy Drew here.