Interview with
Alice Duncan
•
The Unofficial Book Reviewer was tickled pink to catch up with Alice Duncan, prolific author of two long-running mystery series as well as numerous romances and Westerns. Click here to read a review of Hungry Spirits, the fourth book featuring brummagem spiritualist Daisy Gumm Majesty.
Unofficial Book Reviewer: I fell for Daisy big-time. What's the background on the Spirits books?
Alice Duncan: Daisy is pretty much me, only without my infernal shyness and icky neuroses. I wanted to write a book set in the 1920s because the decade is just purely fascinating.
I gave Daisy and her folks a house I used to own in Pasadena, moving it from Michigan Avenue to Marengo Avenue. Also, the house Mrs. Bissel lives in once belonged to my beloved aunt, Maren W. Fulton. I used to dream about my aunt's house all the time. Since I began using it in my books, I don't dream about it so often.
UBR: Have you attended séances?
AD: No, although my half-brother's aunt was always taking him to séances. When anything in the house went bump, his mother would say, "Oh, it's just Edna." Edna, of course, had died years earlier.
But Rolly did appear to my daughter Robin and me when we were playing with the Ouija board she'd bought at a yard sale for 50 cents. It said Rolly was my soul mate and he'd followed me down all the years since we were married in Scotland around AD 1000. It's kind of cool to know I have a soul mate, even if he's fictitious and has been dead for a thousand years.
UBR: I love it that the dachshund breeder in Hungry Spirits is named Mrs. Baskerville. What is it with you and dachshunds?
AD: I seem to have been born with a dachshund magnet implanted in me somewhere. Wiener dogs find me, I don't find them. They show up in my life one way or another. I love all my dachshunds dearly, but they're not my fault.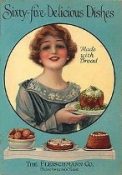 UBR: Is Sixty-Five Delicious Dishes a real book?
AD: It is indeed a real book, although I've never made a recipe from it myself. Poor Daisy. She never wants to see another croquette as long as she lives.
UBR: Daisy loves mysteries by Mary Roberts Rinehart and R. Austin Freeman. Who are your own favorite authors?
AD: I love Rinehart too, along with Elizabeth Peters (especially her Amelia Peabody Emerson books); Agatha Christie; Carola Dunn; David Rosenfelt; Tami Hoag; Lisa Gardner; P.G. Wodehouse; Bill Bryson; T.E. Kinsey; and Karen Menuhin.
And I adore Peter Brandvold. "Mean Pete" gave me one of his characters, the hard-drinking, womanizing, blasphemous Lou Prophet. He first shows up in Shaken Spirits, Daisy's 14th adventure, and he's so much fun to write!
More books by Alice Duncan: