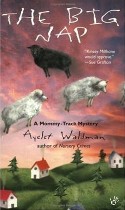 Ayelet Waldman •
The Big Nap •

Juliet Applebaum gave up her career as a public defender to be a stay-at-home mom; she's able to do this because her screenwriter husband earns buckets of money. (Ever notice how the people in detective stories are conveniently free of financial worries?) Now she juggles breast pumps, diaper disasters, and the difficulty of finding reliable child care with clues in the murder cases she stumbles across.
At one point Juliet wonders how she could have been so successful in her profession, when she's now routinely manipulated by a three-year-old. In the courthouse, she concludes, she wasn't feeling guilty "because it had been weeks since I'd taken the prosecutor to the park or played Candyland with him."
While suffering from sleep deprivation and jealousy, Juliet searches for her missing babysitter, flies to New York to visit her parents ("I want to stay here and watch you and Daddy hit each other with newspapers"), and tangles with Hasidic tough guys, for whom her indignant mother has a few choice words: "What do you think you are, the Jewish Gambini family?"
Waldman's Mommy Track mysteries are delightfully named—Nursery Crimes, A Playdate with Death, The Cradle Robbers—and they move fast; you could probably read straight through one on a cross-country flight. Or, if you have small children of your own, you can manage single chapters in three-minute bursts.
Or you could just take a nap.