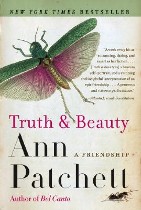 Ann Patchett •
Truth and Beauty •

If you object to memoir on the grounds that it's self-serving, you might want to make an exception for this one. Ann Patchett's powerfully moving story centers not on herself, but on her friendship with poet Lucy Grealy.
There are people who change your life the minute they walk in the door. In Grealy's case, walking in the door means flinging herself straight into the arms of her startled new roommate.
The two aspiring writers share story ideas scribbled on paper towels. They dance wildly in the kitchen after dinner. They see each other through health crises, romantic entanglements, suffering and success. Ann chases away uncouth boys who taunt Lucy over her appearance and stands up to hospital nurses for her. Lucy talks Ann out of wearing a short short skirt to a party—"That's family down there, and you look like a total slut"—then appears moments later dressed in the same skirt herself. "Gotcha," she crows.
What stays with you from this book is the soul-deep connection between the two women. Most of us only get one friendship of this caliber in our whole lives. Patchett had the raw courage to document hers in the face of blinding loss: Grealy's death from a heroin overdose at age 39.
Click here to read a review of State of Wonder, a novel by Ann Patchett.