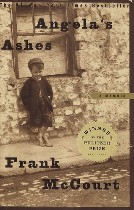 Frank McCourt •
Angela's Ashes •

You don't need me to tell you how terrific this book is, because everyone—including the Pulitzer Prize committee—has told you already.
Some years ago I suggested Angela's Ashes to my father, who was of Irish descent, and later asked what he had thought of it. "Boy," said Dad (we were on the phone, but I could almost see him shaking his head), "you don't know whether to laugh or cry at some of this stuff."
And that sums up Frank McCourt's gifts very nicely.