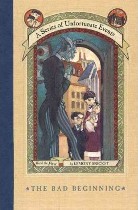 Lemony Snicket •
The Bad Beginning
(Book the First in A Series of Unfortunate Events) •

Let's start at the bad beginning
It's a very bad place to start
When you read you begin with A, B, C
But the Baudelaires begin with Woe is me!
I like everything about A Series of Unfortunate Events. I like the way the books feel in my hands. I like the illustrations. I like the structure (13 books of 13 chapters each). I like the wordplay and the glosses stuck in everywhere. (The word gloss here means an explanatory phrase inserted in parentheses.) I like the overall literary flavor; I like knowing that somewhere a whole class of fourth graders will be able to recite the eleventh stanza of Swinburne's "Garden of Proserpine" for the rest of their lives because it's an important key to the mystery the Baudelaire orphans are trying to solve (The Slippery Slope).
And I love, love, love the characters. Lemony Snicket reaches into the teeming magician's hat of his mind and pulls out sinister Count Olaf, with his tattooed ankle and penchant for anagrams; Aunt Josephine, a grammarian who is mortally terrified of realtors (The Wide Window); Captain Widdershins, the submarine skipper whose crew wear pictures of Herman Melville on their diving suits (The Grim Grotto); and the perennially optimistic Phil, who on suffering a terrible accident remarks that he never liked that leg much anyway (The Miserable Mill).
It's never too late to have an unfortunate, miserable, vile, hostile, grim childhood.
Fortunately.