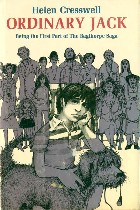 Helen Cresswell •
Ordinary Jack •

The Bagthorpe Saga is my prescription for the next time you're feeling depressed.
Jack is the unexceptional, comic book-loving kid in a pack of juvenile genii who don't hesitate to trumpet their superiority, and this first book in the series deals with his plot to prove himself their equal. In this he is encouraged by Uncle Parker, who concocts a Two-Pronged Campaign involving Mysterious Impressions and the appearance of a Great Brown Bear. (The British like to talk in Capital Letters, I've noticed.)
As the saga progresses, Grandma—a notorious cheater at games—gets arrested for causing a riot in the local bingo parlor, while four-year-old Daisy pursues her hobbies of setting fires and writing on walls, with a smelly goat and the invisible Arry Awk as accomplices. A feud between Mr. Bagthorpe and Uncle Parker results in all the canned goods in the pantry being stripped of their labels, giving mealtimes the character of a culinary lottery. The junior Bagthores raise maggots in the airing cupboard, dabble in the occult (no doubt terrifying the spirits), and forge their teachers' handwriting on report cards to turn tart complaints into glowing accolades.
Helen Cresswell wrote dozens of other children's books, but none approach the Bagthorpe Saga for sheer hilarity.