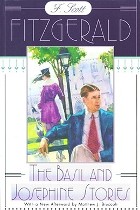 F. Scott Fitzgerald •
The Basil and Josephine Stories •

These stories make my throat ache. Fitzgerald never lost touch with how it feels to be young, and he has created a time capsule of throbbing adolescence here.
Both characters are caught at the moment when "the future was measured by a day"; both are precisely etched, without sentiment to blur or mockery to diminish them. Basil stunt-riding his bike around the yard to impress a girl. Josephine burning a love letter and wiping up the ashes with a man's handkerchief. Basil writing down local scandals in invisible ink, planning to become a detective–or maybe a gentleman burglar. Josephine jumping out a window into a snowdrift so she won't be caught in a compromising position. Reading their exploits, you'll wonder how you could have forgotten so much about the giddiness and astonishment and searing pain of first love, first ambition, first betrayal.
Fitzgerald is surely one of the most graceful writers who ever lived, yet the hold he exerts over your heart is worth all the technique in the world. Basil and Josephine are among his most memorable creations.